mattre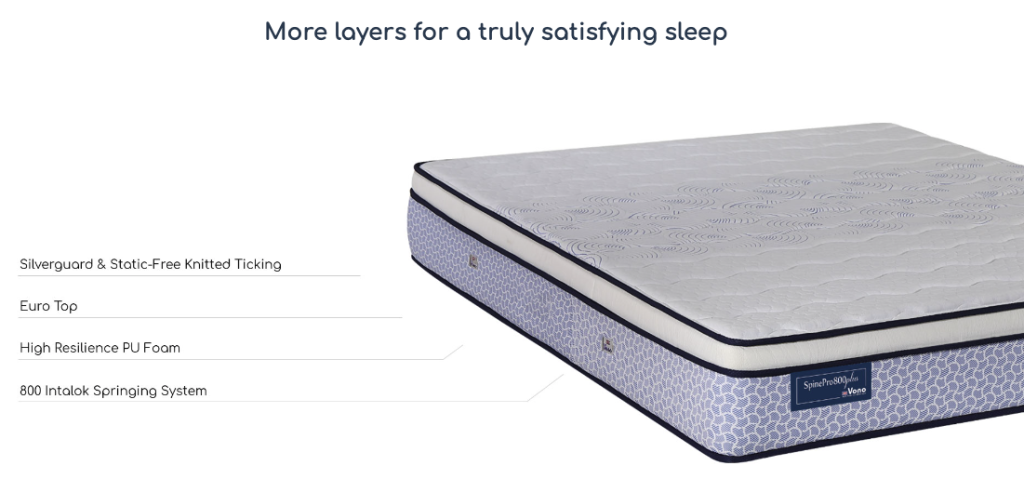 Vono SpinePro 800 Plus Mattress
Queen & King Size FREE 2 PILLOW, 1 MATTRESS PROTECTOR
Single & Super Single Size FREE 1 PILLOW
– This is mattress only, bed frame is not included.
Single Size (3′ 0″ x 6′ 3″) 
Super Single Size (3′ 6″ x 6′ 3″) 
Queen Size (5′ 0″ x 6′ 3″) 
King Size (6′ 0″ x 6′ 3″)
Materials:
Pocketed Intalok Springing System 800
Exclusive SilverGuard & Static Free Knitted Fabric
Ultra Lumbar Support
High Resilience PU Foam
Pillow Top Design
Non Flip
Mattress Thickness (Top-to-Bottom) 10.5″ (+/-1/2″)
Firmness: Firm
– Reinforce strong support with its Intalok Springing System that has at least two times spring count for two times back support.
– SilverGuard treated fabric for mattress hygiene, because as we sleep, we also sweat and SilverGuard treated fabric is able to diminish 99% of the bacteria within 24 hours.
– SpinePro mattress has Ultra Lumbar Support and designed with fives zones that gives extra cushioning to the lumbar areas, giving you a natural posture while sleeping.
– The difference between SpinePro 1200 Plus and 800 Plus is that SP1200 has 1,200 pocketed Intalok springs for its largest mattress size, whereas SP800 has 800 Intalok springs for the same mattress size. This makes the SP1200 firmer than SP800 which is of medium firmness.