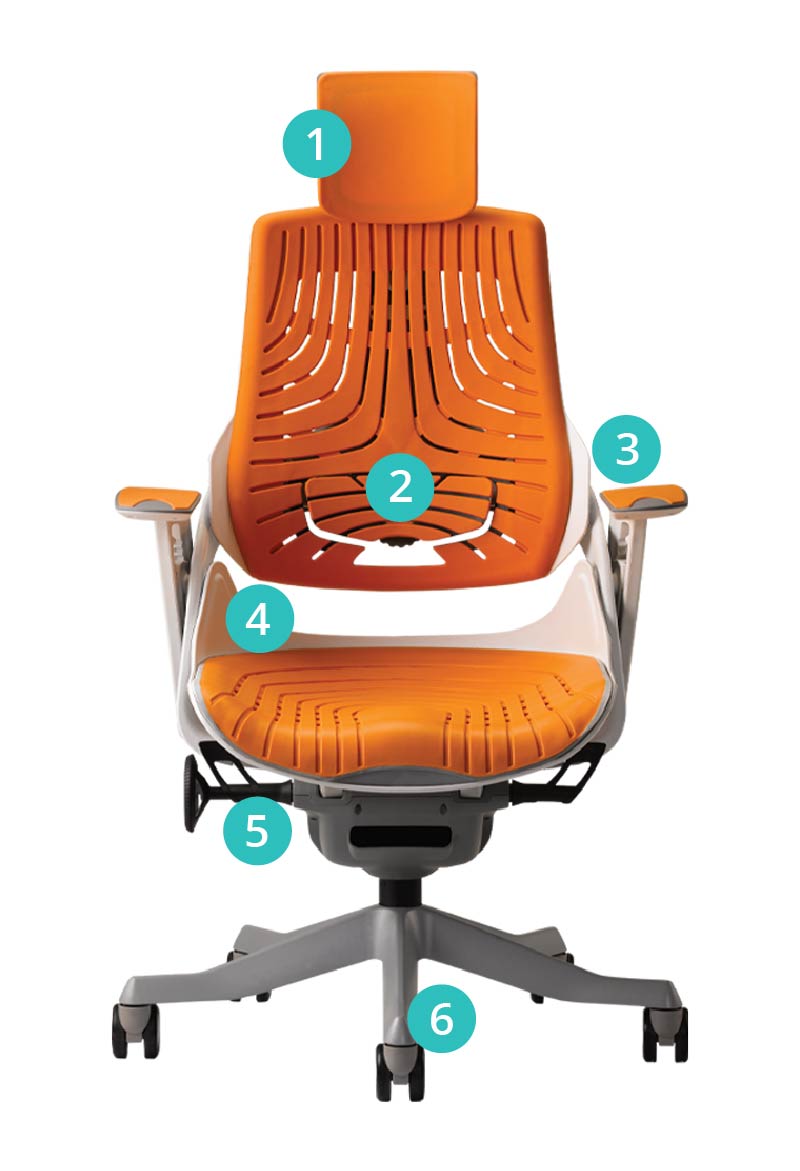 A signature Merryfair chair that is flexible to suit any body types, executive looking, and for users with long working hours at the office and even at home. Wau combines excellent ergonomics to extract human performance and trendy styling to elicit self confidence and satisfaction as you perform.
1. Headrest: Adjustable for 100mm
The headrest is made of moulded polypropylene. It is height adjustable for 100mm.
2. Backrest: Adjustable lumbar depth
Lumbar knob is located at the backrest. It can be rotated clockwise or counter clockwise to adjust for lumbar depth.
3. Armrests: Adjustable for Height and Swivel Angle
The armrest  is made of of Thermoplastic elastomer(TPE). The armrest is height adjustable for 80mm. It can also be swivelled to the side at an angle of 35 degrees.
4. Seat and Back: Adjustable for height for 90mm
The seat comes in either mesh or elastomer surface. The same surface applies for the back.
Mesh Surface:  The breathable mesh filter-like chair provides hours of comfort. The mesh surface encourages flow of fresh air and provides a cool comfort especially in warmer climates.
Elastomer surface: The thermoplastic elastomer(TPE) surface is soft and rubber-like. The 3D contour shell is tailored to suit movements and support different areas of the body. It helps to maintain good posture without hurting your neck or back.
5.Mechanism: Adjustable Tilt tension and Tilt Lock Control
The tilt tension can be adjusted by a hand-crank placed conveniently. The chair features tilt locking at a reclined position.

6. Base
Five-prong base of die-cast aluminium alloy (100% recyclable) in epoxy powder-coating or polished finish. 60mm dual-wheel castors of moulded polyamide (Nylon).